We are part of the answer
instead of part of the problem
34 Dumfries Road
La Romaine, Trinidad, W.I
Tel/Fax (868) 652-8060
---
Courtesy the Gospel Bulletin Board of the Express Newspaper
December 1, 2006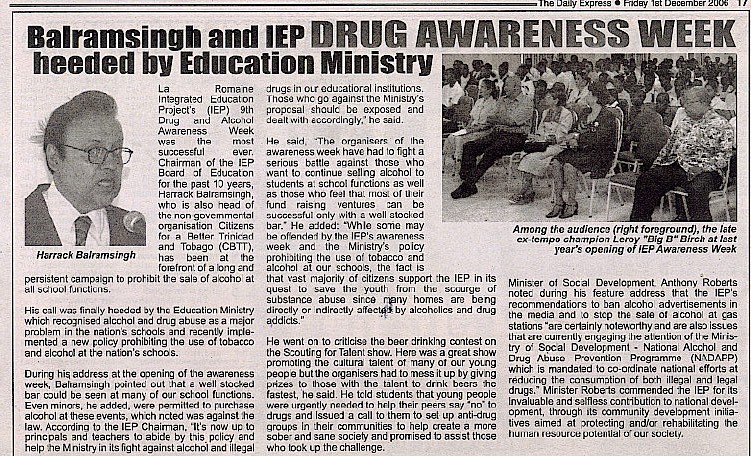 ---
CBTT helps Trinidadian deportees
May 21, 2001
The group Citizens For A Better Trinidad and Tobago (CBTT) has received commendation from foreigners as well as locals for assisting Trinidadian deportees from North America. The latest involved a 38-year-old Trinidadian woman who was deported after serving over three years in a California prison for child endangerment.
CBTT was at Piarco International Airport on April 12, 2001 to receive her. Ann Marie had been in the United States for over 20 years. She is now doing fine and hopes to get a job early.
She took training courses while in prison to be become a refrigeration/air conditioning technician. At the end of the training program she got her certificate. Also, she is skilled in publishing and graphics and is familiar with everything from pre-press to press operation.
She needs time to decompress from her experiences in prison and INS detention. CBTT will give her the necessary support and counselling to help her adjust to being on the outside.
---
CBTT names Archbishop Anthony Pantin as Trinidad and Tobago's Religious Personality of the 20th Century
"Such a great citizen must not be forgotten. Call made for an institution to be named after him"
The non-governmental organization Citizens For A Better Trinidad and Tobago (CBTT) recently chose the late Roman Catholic Archbishop Anthony Pantin as Trinidad and Tobago's Religious Personality of the 20th Century.
His Grace, who succumb to a heart attack on March 12, 2000 at the age of 70, became Archbishop of Port-of-Spain in 1968. According to the organization, he was a religious leader who lived by example.
He was not afraid of speaking out against the many social ills plaguing the society. CBTT said, " In a world where there are large numbers of religious men who fail to practise what they preach, Archbishop Pantin set very high standards for himself and all citizens of Trinidad and Tobago.
The organization added, "Every person who came in contact with His Grace was most impressed with his humility and genuine love and concern for his fellow men, especially the youth." CBTT described the late Archbishop Pantin as "one of the most respected and admired religious leaders in Trinidad and Tobago and the Caribbean."
In choosing him as their T&T Personality of the 20th Century, CBTT added, " We can eradicate many of the social ills in society today if more religious leaders stop being hypocrites and begin to emulate the life of the late Catholic Archbishop." The group stated, " He was not afraid to speak out against corruption, immorality, racism, discrimination and domestic violence because he saw them as ungodly acts which can destroy a nation."
The late Archbishop Anthony Pantin looked at every human being as a brother or sister, according to CBTT, which also said, " He had done much to eradicate racism by helping to develop within our young people a sense of racial tolerance and respect for the rights of others."
CBTT called on the authorities to ensure that the Archbishop is remembered by naming a worthwhile institution in his name. "Such a great citizen, "who did much to unite his country," must not be forgotten." The organistion said it hoped by naming him T&T's Religious Personality of the 20th Century, citizens would be encouraged to emulate his exemplary life.
---
CBTT head receives Commonwealth Award
Harrack Balramsingh, president of Citizens For A Better Trinidad and Tobago (CBTT) has been honoured with the Commonwealth Regional Youth Service Award for contribution to the development of the society.
Wilton John, Youth Affairs' Director of the Ministry of Sports and Youth Affairs presented Balramsingh with the award at a special ceremony held on Saturday September 30, 2000 at the Central Indoor Sporting Complex, Ramsaran Street, Chaguanas.
During the award ceremony Jerome Teelucksingh, founder and president of The Association for the Reorientation and Transformation of Masculinity also received from John the 2000 Commonwealth Youth Service Award.
John said that the award was given annually to individuals and groups within the Commonwealth Caribbean that contributed to the uplift of the society, especially among young people. He praised the efforts of this year's recipients stating that they had contributed greatly to youth development and sought to tackle the many problems facing males.
---
CBTT meets with Commonwealth Secretariat team to determine if election observers needed
On November 16, 2000, Citizens For A Better Trinidad and Tobago(CBTT), met with the advance group from the Commonwealth Secretariat who came to Trinidad to determine if there was need for election observers.
CBTT discussed its concern over the racial pattern of voting in Trinidad and Tobago but expressed hope that citizens would exercise their franchise according to the important issues at hand.
The group pointed out to the two-member team of Dominican-born Judith Pestenia and Nigerian-born Chuks Ihekaibeya that it would be to the benefit of Trinidad and Tobago for the observer team to come here and find no irregularities in the election. The team can then recommend this country as a model for other countries to follow.
While in Trinidad, the group met with Prime Minister Basdeo Panday, representatives of the Media Association of Trinidad and Tobago (MATT), political analyst John Guerra, president of the National Trade Union Centre (NATUC), Robert Giusseppi, members of NAR, PNM, UNC, Commissioners of the Election and Boundaries Commission (EBC), as well as various non-governmental organisations including CBTT.
---
CBTT co-hosts 2nd International Men's Day
On November 19, 2000, Citizens For A Better Trinidad and Tobago (CBTT) in collaboration with the Association for the Reorientation and Transformation of Masculinity(ARTOM) co-hosted the 2nd International Men Day observance at Palm's Club, San Fernando. The International Men's Day originated in Trinidad and Tobago in 1999 and has already spread to other countries.
Presentations were made by Wayne Riley, co-ordinator of the Male Support Programme at the Ministry of Culture and Gender Affairs; Harrack Balramsingh, president of CBTT; Dr. Rhoda Reddock, head of the Centre for Gender and Development at the University of the West Indies; Dr. Rosabelle Seesaran, a former school principal; Jerome Teelucksingh, president of ARTOM; Chaitram Kapoor Rampersad, co-ordinator and counsellor of HEAL Rehabilitation Centre of Couva and Rev. Nelson Sammy, Head of the Living Word Christian Centre.
Hamish Seedan of the group Men Against Violence Against Women (MAVAW) and CBTT's vocalist Cindy Balramsingh made their presentation in song.
The IMD is not intended to compete against the women day. Instead, the goal is to foster and promote better relations between men and women.
---
Mahatma Gandhi, Mother Teresa, Nelson Mandela and Billy Graham named as CBTT'S top four personalities of the 20th century
Mahatma Gandhi,
who was born in India on October 2, 1869, became one of the most respected spiritual and political leaders of the 19th and 20th centuries. He helped free the Indian people from British rule through nonviolent resistance, and is honoured by his people as the father of the Indian Nation.
He entered into an arranged marriage at the age of 13 to a girl of the same age and they had four children. Gandhi studied law at Inner Temple in London and later worked ceaselessly to improve the rights of immigrant Indians living in South Africa where he stayed for 21 years. At the time South Africa was controlled by the British, and when he attempted to claim his rights as a British subject he was abused, and soon saw that all other Indians suffered similar treatment.
It was in South Africa that Gandhi developed a method of direct social action based upon the principles of courage, nonviolence and truth called Satyagraha. He believed that the way people behave is more important that what they achieve.
In 1915, the CBTT's male personality of the century returned to India, and within 15 years he became the leader of the Indian nationalist movement. Using the tenets of Satyagraha, he led the campaign for Indian independence from Britain. He believed it was honourable to go to jail for a just cause. Altogether he spent seven years in prison for his political activities, and on more than one occasion Gandhi used fasting to impress upon others the need to be nonviolent.
India was granted Independence in 1947, and partitioned into India and Pakistan. Rioting between Hindus and Muslims followed. Gandhi had been an advocate for a united India where Hindus and Muslims lived together in peace.
On January 13, 1948, at the age of 78, he began a fast with the purpose of stopping the bloodshed. After five days the opposing leaders pledged to stop the fighting and Gandhi broke his fast. Twelve days later he was assassinated by a Hindu fanatic who opposed his programme of tolerance for all creeds and religion.
Mother Teresa
was born in Albania in 1910, and joined the Sisters of Loreto, an Irish order with a mission in India in 1928. One year later she left the Loreto Abbey in Dublin for Calcutta where she began nearly 20 years of service as a teacher at Loreto school for girls. In 1937, she took her final vows of poverty, chastity and obedience.
In 1946 while travelling on a train to Darjeeling, she received a "call within a call" to leave the convent and help the poor while living among them. In 1948 she received permission from the Archbishop of Calcutta to work outside the convent and two years later founded the Missionaries of Charity.
In 1954 Mother Teresa established a home for the dying in Calcutta for those abandoned and left to die on the street, and in 1964 she started a leper colony in West Bengal. In 1975 she published a book entitled "Gift from God" and four years later she was awarded the Noble Peace Prize. In 1985 she opened the first church-sponsored hospice for patients with AIDS in New York City, and in the same year was awarded the Presidential Medal of Freedom by President Ronald Reagan. She died of cardiac arrest on September 6, 1997 at the age of 87 in eastern India.

Nelson Mandela spent 27 years in prison and has never wavered in his devotion to democracy, equality and learning. Despite terrible provocation, he has never answered racism with racism. His life has been an inspiration, in South Africa and throughout the world, to all who are oppressed and deprived and to those who are opposed to oppression and deprivation.
Evangelist Billy Graham is known around the world as a minister who fervently.

shares the teachingsof his church. He has been a spiritual advisor to American Presidents, and millions of people have attended his gatherings called "crusades". He is without doubt the world's leading evangelist
CBTT is a six-year-old organisation that promotes national and regional development. It recently honoured West Indies cricketer Courtney Walsh for making an outstanding contribution to the game for the Caribbean.
---
CBTT assists in first ever Alcohol and
Drug Awareness Week among schools
The CBTT'S 1997 Republic Day Award recipient and Former President of the Republic of Trinidad and Tobago, Justice Noor Hassanali, officially declared open the 2nd annual Alcohol and Drug Awareness Week of the La Romaine Integrated Education Project(IEP) on September 27, 1999.
Former First Lady Mrs. Zalayhar Hassanali, who was joint recipient of the Republic Day Award in 1997, was also in attendence, along with principals and students of primary and secondary schools in La Romaine and its environs.
This year's awareness week, which began on September 27 and ended on October 1, 1999, focused mainly on the evils of drug abuse and the drug trade.
The President of Citizens for a Better Trinidad and Tobago (CBTT), Harrack Balramsingh, who also heads the IEP Board of Education, initiated the annual Drug and Alcohol Awareness Week last year.
In organising such a week for the first time in September 1998, the IEP, which includes a Hi-tech Centre, a Post Primary Centre, an Early Childhood Centre, and an Adolescent Development Programme, dared to do what no other educational institution in Trinidad and Tobago, the Caribbean and probably the world had ever done before.
The purpose of the annual Drug and Alcohol Awareness Week is to send a clear message to students and other young people that substance abuse can cause them to lose their way in life.
Citizens from every corner of the country have complimented the IEP - which has strong support from the Ministry of Education and Servol - for initiating an annual Drug and Alcohol Awareness Week. The majority of them expressed disappointment that such a week did not exist in other schools.>
During the week emphasis was placed on the dangers of the use and abuse of drugs through the use of lectures, essay competitions and audio-visual materials on the subject.
CBTT'S outstanding vocalist Cindy Balramsingh thrilled the large audience at the opening with her rendition of "The Anchor Holds".
---
50 needy children get $ I,000 each from CBTT
Fifty of the nation's neediest children were each given a $ 1,000 grant by the Citizens for a Better Trinidad and Tobago(CBTT) for the academic year 1999 -2000. The awards were made possible through the kind generosity of the business sector, private individuals, and local and foreign members of the group.
The 50 primary and secondary school recipients were chosen on the basis of extreme poverty. Without the grant, regular school attendance for these children for the upcoming academic year would have been virtually impossible.
Many of the group's volunteers and retired teachers will be providing extra lessons, on an individual basis, to needy students especially those who need remedial help.
CBTT thanks all those who made the grants possible. Their generosity is a clear indication that there are many caring and unselfish citizens out there.We are also very grateful to those employers who assisted the group by hiring 45 needy students during the school vacation. They are all aware of the tremendous contribution they have made to the poor and downtrodden children who may one day be the future leaders of the nation.
---
Respect old people says 105-year-old woman

In keeping with CBTT's annual Month of Prayer and the International Year of Older Persons, volunteers visited several senior citizens last April. The oldest of them all was Loretta Lovelace who celebrated her 105th birthday on April 14, 1999. Loretta was baptised at the Union Village, Claxton Bay, Baptist Church at the age of 90. She said she owed her longevity to her early religious upbringing.
This amazing woman claimed she was still enjoying cooking for her great-grandchildren at the age of 100. Although she is weaker now, she can still read and thread a needle without spectacles. Three of her five children have died. Loretta has 45 grandchildren and eighty great-grandchildren. She stated that children must never neglect their parents or treat older persons with disrespect since everybody must get old one day.
When told that very few people would live to be 105 years old, she smiled and replied: "Too many people are not taking care of themselves. They take too much alcohol and drugs, and don't have any fear and respect for God. She was sure many people would live longer "if they serve God in spirit and in truth".
---
CBTT Annual Month of Prayer

Last April 16, ten special services were held simultaneously in Canada, the United States and Trinidad and Tobago to offer prayers for world peace and for a solution to domestic violence, murder, rape, incest, physical and sexual abuse of children, racism and all other social ills in society.
This "Special Day of Prayer" was part of CBTT's activities

to mark its sixth annual "Month of Prayer" from April 1 - 30. We believe that prayer is the answer to personal peace, joy, happiness and contentment, even in the midst of troubles, trials and heartaches.
During the annual "Month of Prayer", volunteers of the organisation usually visit hundreds of sick, despondent and suicidal people to offer them prayer, hope and comfort. Our volunteers use the month of April each year to stress the importance of prayer in our daily lives.
---
ALCOHOL CAUSES MANY YOUTH CRIMES
Citizens for a Better Trinidad and Tobago would like to share the results of a nationwide survey taken among 500 drinking teenagers, which found that 65 percent began consuming alcohol occasionally at age 13,while 60 percent drank on a regular basis at 16. Ten percent of the 500 young drinkers admitted they had committed serious crimes such as rape and burglary while under the influence of alcohol.
Forty percent of the 420 boys and 35 percent of the 80 girls said their first sexual encounter was directly related to alcohol abuse. The survey also found 26 percent of the girls and 35 percent of the boys who drank alcohol had two or more sexual partners. A whopping 40 percent of the 500 drinking teenagers admitted that they had tried either marijuana or cocaine in combination with alcohol - a practice which many experts agree could lead to coma or heart failure.
Seventy-nine percent of those surveyed said they came from homes in which at least one of the partners drank regularly. Eighteen out of the 20 girls who claimed they had incestuous relationships blamed an alcoholic relative as the reason. The findings of the survey clearly showed that although many teenagers drank heavily, the vast majority denied they had a drinking problem. They believed there was nothing wrong with drinking since alcohol was an accepted and legal drug.
It is interesting to note that a previous CBTT survey showed alcohol was responsible for 39 percent of the admittance to hospital; 85 percent of anti-social behaviour; 48 percent of murders; 65 percent of rape and 90 percent of incest.
---
Too many youths smoking says CBTT survey
Sixteen percent of high school seniors are daily smokers, while 10 percent smoke eight to ten cigerettes a day. This is the finding of a survey taken among 500 senior seconday school students by CBTT. The survey also found that 60 percent have tried cigarettes, 30 percent of them before they have entered high school
It seems that many of our young people are unaware that people who smoke are more than 12 times likely than non-smokers to develop lung cancer and three times as likely to die at an early age from heart attack. Young people who use cigarettes are at great risk for all other drug use, and cigarettes contain more than 4000 harmful substances, several of which cause cancer. Nicotine, the active ingredient in tobacco, is as addictive as heroine, and fewer than 25 percent are able to quit the first time they try it. Despite these facts, many children and adults still use tobacco.
The majority of youths are unaware of the serious physical consequences of tobacco. They believe that it is safe because they do not get the kind of "high" caused by alcohol and other drugs. The CBTT survey was done in order to foster and promote an awareness among young people of the dangers caused by tobacco smoking.
---
CBTT celebrates Emancipation Day in New York
A large group of West Indians joined CBTT in New York's Central Park on August 1, 1998 to mark the 160th anniversary of the emancipation of African slaves to the Americas. The crowd, which included many curious American and other foreign onlookers, heard Citizens for a Better Trinidad and Tobago(CBTT) describe the Caribbean as a "stew pot". In the stew pot concept, each one of the vegetables retains its individual characteristics but, at the same time, enriches the flavour of the other vegetables.
The group encouraged the very enthusiastic crowd to join CBTT in symbolising unity and harmony among people of all races and religions. The celebrations included many cultural items by West Indians living in Canada and the United States.
---
150th Anniversary Indian Arrival Ouiz/Essay Winners
Lower sixth- form student of St Augustine Girls' High School Allyah Jaggassar(second from right with plaque) walked away with the first prize in the national Indian Arrival Day essay/quiz competition organised by Citizens for a Better Trinidad and Tobago to commemorate the 150th anniversary of the arrival of East Indians to these shores. Jaggassar received a National Petroleum Marketing Company plaque and $1,000 in prize money from CBTT.
Second prize of $ 800 went to Sunita Mahabir(second from left) of North Eastern College and the third prize of $ 600 was won by Nakeda McKenzie (right) of St. Joseph Convent, San Fernando. More than 75 secondary schools throughout the country participated in the essay/quiz competition.
---
PANTINS NAMED FAMILY OF THE YEAR

During the International Year of the Family in 1994, the popular Pantin family was named as Trinidad and Tobago's Family of the Year after being selected by 6,018 persons interviewed by CBTT. It is remarkable to find so many members of a single family who has contributed to such an extent to the country.
In picture, SERVOL's chairman, FR. Gerry Pantin, the holder of the country's highest award, the Trinity Cross, and the Altenative Nobel Peace Prize, receives the Family of the Year award from Harrack Balramsingh, CBTT's president(left). Other members of the Pantin family(from second from left) are Geoffrey, SR. Rosa, Patricia Villanueva, Archbishop Anthony Pantin, Michael Pantin and former Education Minister Clive Pantin.
---
[ HOME PAGE ] [ VIEWPOINT ] [ CBTT HISTORY ] [ REPUBLIC DAY AWARDS ]

[ ARCHIVES ] [ THE WALSH PAGE ] [ ARTICLES/RELEASES ] [ LINKS ] [ APPLICATION ]