We are part of the answer
instead of part of the problem
34 Dumfries Road
La Romaine, Trinidad, W.I
Tel/Fax (868) 652-8060
---
Home page on the Internet for the CBTT
CITIZENS FOR A BETTER TRINIDAD AND TOBAGO [CBTT] was formed on August 1, 1993 in order to help people - both here and abroad - live a better quality of life.

It is a legally registered non-profit organization which embraces citizens of every creed, race and religion.

CBTT, which is affiliated to CITIZENS FOR A BETTER LIFE (CBL), believes that a united people will go a long way in helping to solve the many problems people face today.

Members work hard on a voluntary basis to help the disadvantaged in society because they are deeply concerned for those who are poorly clothed and fed as well as those who need living space, jobs and the other essentials of life.

One of the major aims of the group is to prevent the growth of drug abuse. Volunteers attached to CBTT lecture on a regular basis to both young and old on the physical, social and legal consequences of drug abuse.

As a result of this, another group known as PARENTS AGAINST DRUGS [PAD], the first group of its kind in Trinidad and Tobago, was formed in conjunction with CBTT.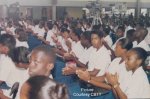 The objective is to establish a PAD group in all communities.
Two national surveys on the abuse of alcohol and tobacco smoking were carried out by CBTT in 1996 for the sole purpose of making young people and adults aware of the grave dangers of these two legal drugs.
CBTT, which is well known for its social, charitable and community work, is committed to helping other groups and organisations in the fight against other major ills affecting the society.
Every year, CBTT, with the assistance of caring and generous individuals, donates hundreds of hampers to needy families. Many employers also assist the group by employing needy students during the school vacation.
During it's annual MONTH OF PRAYER in April, volunteers visit hundreds of homes to pray for and comfort people who are sick, lonely, despondent and suicidal. Hospital visits by volunteers are another outstanding feature of the organisation.
Many adults and young people benefit greatly from regular seminars and symposiums on career guidance, substance abuse, crime and domestic violence organised by the group. CBTT, which is a bonafide non-governmental organisation [NGO], is always ready and willing to assist victims of substance abuse, AIDS, incest and domestic violence.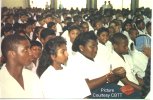 The REPUBLIC DAY AWARD was initiated by CBTT in 1993. This award, which is in keeping with Trinidad and Tobago's status as a Republic, is given annually to an individual for long and outstanding contribution to national and/or regional development. Non-Trinidadians are also eligible for the award.
CBTT believes that all persons take one common path to the grave. Rich and poor, great and small, young and old have a final appointment to keep with death.
Until that final appointment, it is incumbent on us to do what we can to make the world a better place in which to live.
And in order to do this, we must develop ourselves to the greatest extent possible so we can make the contribution which life expects of us, and for which we were created.
---
[ HOME PAGE ] [ VIEWPOINT ] [ CBTT HISTORY ] [ REPUBLIC DAY AWARDS ]

[ ARCHIVES ] [ THE WALSH PAGE ] [ ARTICLES/RELEASES ] [ LINKS ] [ APPLICATION ]